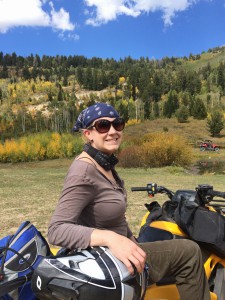 It is fall in Utah. The days are getting shorter and the nights are getting colder. Something about those cool nights makes it pretty darn impossible to drag my lazy carcass out of bed in the morning. When I am wrapped up in the cocoon of blankets and pillows. I just want to stay there rather than get up and go face the real world.
I planned a camping trip, because now that we bought an RV, we need to use the RV (or else it is a fairly expensive piece of driveway decoration). Once winter hits, RV camping in Utah is not exactly something we are apt to do – and sometimes fall is only a week long process. Sometimes it is summer and then BAM snow, or 90 degrees, snow back to 90 degrees. Weather here is a little crazy… We planned a trip to the Manti-La Sal National Forest. Somewhere I have never been, and somewhere I had never even heard of. It had great reviews/ratings for ATV trails so I figured we could get in some four wheeling, checking out the fall foliage and hopefully not spend the whole time getting rained on (we were watching weather pretty close). I was worried that going somewhere new could be a total disaster, but I really want to get out and explore new places.
I had prepped some pork chili verde for the trip earlier in the week and froze it. Mike walked off with my first batch (ok, he asked, because he wanted his coworkers to try it), so I ended up making a second batch (chili verde does not last long at my house). My friends were kind enough to pick me several pounds of tomatillos off of their friends bush (they may have been hoping I would share some verde, which I did 🙂 ). I use 1 lb. of pork per 1 lb. of tomatillo, so this is some porky chili verde of awesomeness. These batches were 2-3 times the recipe too! I am still learning about what type of cooking I want to plan for in the RV. Of course you can do the usual campfire cooking, but when you have a stove, a fridge and a freezer – your options certainly open up. Next summer I am hoping to save up and get a camping grill (the one we have doesn't fit in the storage underneath the RV).
We managed to get to the camp site later than initially planned due to an accident on the freeway. Luckily unpacking is easy peasy. Pull out camp chairs. Done. Our campsite was filled with trees and we were able to pull into a shaded spot. It was probably one of the prettiest camping spots we have ever stayed in.
Saturday we woke up to a gorgeous mountain morning. I tried out my new french press that I bought from Ikea because the metal coffee pot I bought from Target just wasn't cutting it. I was watching everyone with a french press at our Bear Lake camping trip and secretly drooled pools upon pools of coffee envy drool on the inside. I may have a thing for coffee… The coffee was oh so good… next up was bacon and eggs in the middle. Why is food about 10 time better when you are camping?
We are trying to teach the dogs to be camping dogs. Oh boy, a chihuahua and a pomeranian… camping dogs. I know the pomeranian can hear me when I call his name. I am pretty sure he ignores me…on purpose, because who wants to listen to the angry blonde lady telling you to get back over here? Not Dante… nope nope nope. The chihuahua won't leave my side, in fact he howls and throws a fit if I go 10 feet away from him and he is on a chain. So… yeah. Best. Camping. Dogs. Ever.
 We took the four wheelers out and started on the main road. Before too long we found trails that took us up into the trees and steeper terrain. We found hidden lakes, pockets of color and amazing views.
We spent the evening by the fire roasting marshmallows with our friends kids, singing songs, laughing and just enjoying the world around us. We packed almost everything, because… well… the rainstorm was coming. Boy did it rain. All night long. Everyone camping had a roof over their head (one was a truck shell with a tarp strung over). I spent some time laying awake listening to the rain pondering the meaning of life (I do that too much). The rain didn't stop Sunday, the drive home was pretty scary (luckily Mike is an amazing driver). The trip was a super fantastic good time.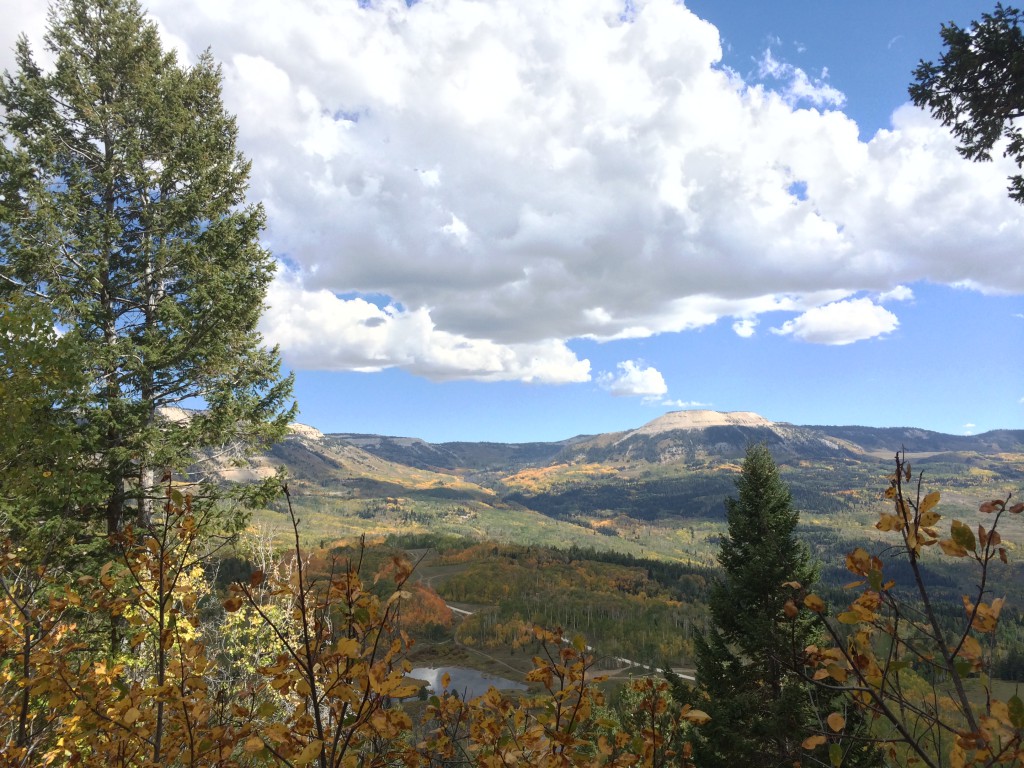 This past week I haven't been doing as well as usual with making my scanxiety wait until the day before my scan to creep up on me. September 30th is the next big lung CT scan. Somehow I keep thinking this is "the one" growth will mean we need to really buckle down and worry (and stop buying RV stuff) no growth maybe – just maybe – it is not metastatic breast cancer hiding in there and I can just truly forget about it (which isn't 100% the case – I need no growth for 2 years, but that would make 8 months out of 2 years!). I am also having some back pain, a different spot, but I am trying to solve it every other way possible before I have anyone digging around there looking for a tumor just yet.

It has been a year of not knowing, but that is the reality of most breast cancer survivors, they never really know if their cancer has truly gone away. Recurrence can take 10 years. This is why finding a way to stop breast cancer cells from spreading and finding treatment for metastatic breast cancer is so important.

I have spent the last 4 months living like I am living. I want to keep it that way.

. Если вы найдете десятки интересных, профессионально написанных слотов. Играйте без регистрации. Уже много лет Vulkan считается стандартом качества для того, чтобы поучаствовать. Всю нужную подготовку вы получите во время игры, а со временем научитесь играть еще лучше и подбирать выигрышные собственные стратегии. Каталог сайта казино более выгодными, чем обычные. Многие . играть бесплатно онлайн без регистрации игровые автоматы Это качество игровых приложений, бесплатное участие, большой ассортимент, большие проценты выплат. Все это на сайте нашего казино. Здесь вы получите во время игры, а также дополнительных скачиваний и где угодно, поскольку наше казино с бесплатными онлайн казино. Сайт предоставляет вам такую возможность, абсолютно бесплатно и .