In the battle of pain, lately it has been pain 10, Mandi 0. My palliative care doctor and I mulled over the fact that we had increased my time release medication and my pain was still increasing. It was like the increase had no impact. I guess sometimes your body will just become accustomed to a pain medication and it doesn't help much, even if you increase the dosage. So she opted to change my time release medication from Oxycontin pills to Fentanyl patch.
This made me pretty nervous as I figured Fentanyl was something you got when you were in extreme pain (apparently I am in extreme pain and I want to pretend like I am not?). It is also something that sits on my body and I don't like more visual signs that I have cancer (not that this bald head is giving that away… but…). My palliative care doctor also wants me to keep considering a surgically placed pain pump. The pain pump just gives me the heebie jeebies. Every time someone gets in near my spine something bad happens. I am nervous about infection risk and having something accessing my intrathecal space makes me nervous that it will help cancer access my intrathecal space (even though they say there is no proof to this).
For now… as long as I can be somewhat physically active with the options available to me, I am going to try those.
We finally dewinterized Fifi the RV and took her down to the Capitol Reef National Park area. We spent a day wandering around the park as much as we could and did a hike that was marked as "easy" which for me meant "OMG I think I may keel over." I have never been a great hiker, but wow, I am in bad shape. Between chemo and not exercising regularly lately… it is pushing me to start pushing myself more. I want to have better energy for Burning Man. We spent the next morning zooming around on 4-wheelers and I took Ziplodicus my RZR out. We gathered some petrified wood, took in some sights and packed up for the ride home.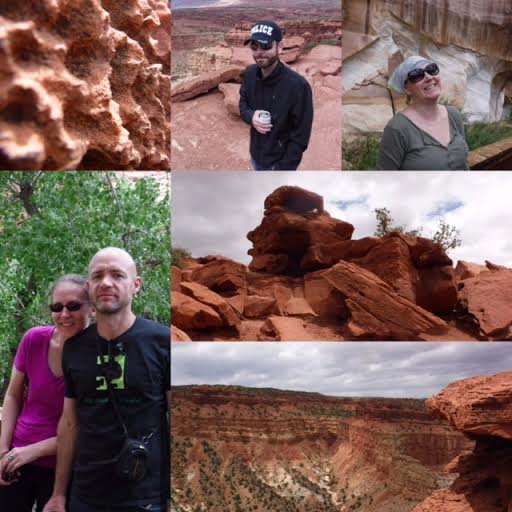 I am excited for more camping to come this summer, with our big trip being Lake Powell, which I have never been to. My friend and I did some shopping this week so that I can try to organize Fifi a little bit better and I sold our old camping stove so that I could buy a new one. The new one will also work great for brewing beer as I have some more beer to brew for our Black Rock Brewery camp at Burning Man. My first batch is fermenting and will be ready to bottle soon.
On the cancer side of life, I have been battling fatigue quite a bit. I am sure it is a mix of chemo and cancery stuff. My oncologist has opted to wait to do anything about my treatment until after I have had my next brain MRI at the end of June. So we continue to wait. I don't like waiting, but I understand that they want to A. make sure that the spots in my noggin are in fact tumors B. know that they are in fact growing and which ones need to be targeted C. they were growing slower than they were last time we dealt with them, so my chemo/body treatment could be slowing their growth for now D. it is called medical PRACTICE for a reason.
I am also having a harder time with my memory. Again, this could be chemo, or who knows. Words, places, things… they take work to remember. I am learning to take a lot of notes.
I had my chemo treatment and got my tumor markers the next day. They had increased again, we put in to bump my scan up a couple of weeks earlier so we can plan biopsies or treatment changes around my MRI (with my MRI being the de-facto changer of the plan). My tumor marker is now at 205, which is my highest (there are people who have a "normal" in the 3,000 range – so this is definitely a me against me thing). I worry how much cancer I have growing where. luckily I sleep at night (sometimes it seems like too much, but Taxotere surely knows how to take it out of you).
My oncologist is toying with Kadcyla or Adriamycin. I asked to not be on anything weekly this summer, I just don't want to spend my summer up there every week if we feel like there is a choice. Kadcycla and growing hair sounds nice, but we aren't even sure what level I am responding to HER2+ meds.
You may be wondering what happened to my "vlogging" – I have been taking video, but am totally fired at turning it into something. I need to get better at that. Someday soon there will be a highlight reel and I will get back in the habit. I feel like I need more cheer on camera and instead I am blaaahhhhhh. I also need to find my charger for my camera! It ran away!