The last bit has been mostly uneventful as far as cancer life goes. I have been tired, cranky, in pain and the usual bit – but have a bit of a break before my next MRI and time before we do another PET-CT. For now we just wait, hope that nothing sneaky is growing and sort of sift through what is "next" in the treatment plan as we are teetering on the brink of change.
I am really lacking in the creative title department this go. I guess it goes to show my energy at .
It is hard to go in for chemo when you just aren't certain how well it is working. Each chemo compounds and gets worse and worse. I question how many infusions of Taxotere I can handle before I throw my hands up, but I try to grit my teeth. Today is my 6th on this adventure. Last year I barely did 8. I asked around and a woman in one of my groups did 20 for metastatic breast cancer. So I figure I can grit my teeth and just DO THIS. I appreciate that things are mostly stable-ish and that my brain tumors are not growing wicked fast like they were last time.
My exciting news is that I officially have our Burning Man tickets after I screwed up the buying process (I didn't preregister for the sale, so I got through to buy, but didn't have the code… GAH!). Seriously guys, you have to be a rocket scientist to go to this desert festival. YOU think it is just a bunch of wild people in the desert barely naked, but they are 50,000 rocket scientists in the desert that can understand this preregistration system. I was able to get tickets from someone who bought them, but can't go (through my network of friends, yay for friends). So I got them transferred over to my name a week ago and we are officially going (although I knew I was getting them, it somehow feels different when they are in your name!)! I have been researching costumes (I am trying to get creative but this stuff costs money – or I can just run around in booty shorts, a bra and some boots – I think the world wouldn't like it) and how to take care of Fifi in the harsh desert.
I would love to get solar that runs the AC unit, but apparently that is just stupid expensive, so we will have to be a bit more creative (which I have also researched). You can't bring dogs with you to Burning Man, so luckily we won't be worrying as much about how to keep them comfortable (probably a good reason on why you can't bring dogs to Burning Man). Running AC all day on a generator is kind of the jerk thing to do, and I don't want to be "that jerk" at Burning Man. I am learning how to brew beer here soon for my camp – The Blackrock Brewery (go Burning Man team go!).
We are hoping to get Fifi dewinterized this weekend and get up in the mountains soon. Hopefully these rainstorms are stopping and camping season is starting! It has been hard being cooped up in the house. I feel like a grouchy McGroucherton x8 and I need to get out and get more active, breath some fresh air and just let off some steam (steam that happens when I zip around in Ziplodiculus, vrrroooom!). Maybe by then my friends will consider less methods of murdering me and more ways of hugging me (because seriously, I am GRUMPY).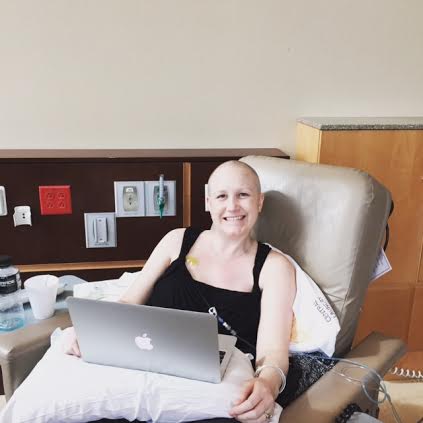 Also, I did a radio interview with FM 100.3. I had chemo brain, so I was a bit out of it… but I appreciate the opportunity to talk about metastatic breast cancer, brain fried or not. <3