It finally happened! The trip to Europe that Mike and I have been putting off for almost 10 years. We have been saying since we initially met that we would go to Europe together and it never quite worked out. Work, money, life always got in the way.
I am absolutely blown away by how many friends, family, and people I haven't met were willing to help us in small and big ways to make this dream a reality. All of you anonymous people that I was not able to personally thank. THANK YOU. You sneaky lovely people. MWUAH!
I have been posting tons of photos (which is maybe less than 5% of the photos we are taking, so much to see! So much to do!). If you check the hashtag #TheMandiList or #LifeListEurope on Instagram you can get the photos all together (I have been doing this on purpose too, so that I can make a special printed memory book).
Our adventure started with us getting on the airplane and discovering that our upgraded "extra legroom" was nearly a mile long (yes, we were on an imaginarily huge plane)! I swear we had more leg space than first class. This is awesome because Mike is one tall dude and usually I fly with his legs over in my area and me trying to squish in around them somehow. We stayed up as much as we could to try to get us prepped for the new timezone. After a layover in Amsterdam we landed in Florence. We took a taxi to our AirBNB flat (the room with a view). 5 flights of stairs turned out to be more like 10 flights of stairs, so lugging our suitcases up after little sleep was a little rough, but THE VIEW! It was so worth it. I spent a lot of time on the balcony soaking up the ambience (and watching the sunset).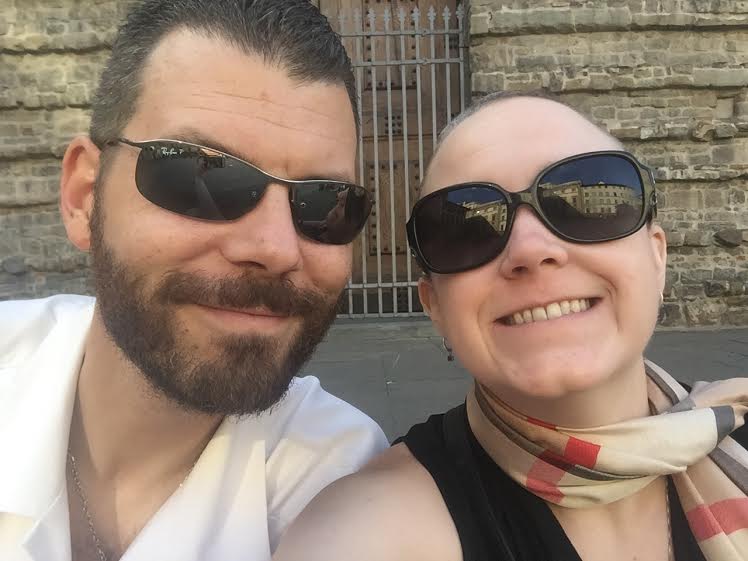 Thus began my steady diet of espresso and gelato.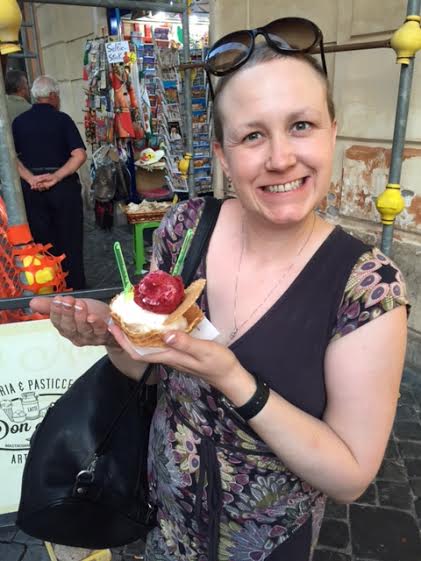 Our place was super quirky and decorated in modern with red and black. I really liked it (of course you were showering practically on top of the toilet, but it gave us the full European experience? Right?). We wandered around Florence, visited the museums and sites, shopped, ate lots of pasta and worked on shaking off the jet lag. We even went to the Gucci museum (random, but hey? Gucci). We held hands crossing a bridge. We also made a couple of friends at dinner since they sort of stack you in on top of each other! One of the friends does tours and gave us some great advice on getting around Rome (where to eat and what to see). Her name is Darcy, she recently finished treatment for early stage breast cancer – check her out at www.ciaodarcy.com.
We had a bit of an adventure trying to get a taxi to the airport because the taxi company would hang up on me after telling me something. I wasn't able to understand if someone was actually coming or what was going on! So we ended up hoofing it to a hotel that called us a cab. We just barely made it to the train station in time (so we will pretend like our mood was sunshine and rainbows). We took a lovely train to Rome. Our AirBNB flat in Rome had reserved us a towncar for less than a cab, so we were able to figure out how to get to it quite easily. The driver joked that we were in a Mazda Miata that we passed on the way to the car. I almost believed him for one quick moment! Oy!
I fell in love with Rome. We had a lovely flat with a huge outdoor patio and garden all to ourselves. I had not realized quite the level of mosquito issues that go on in Rome in the summer, so I donated a lot of blood before we tracked down bug spray at one of the local pharmacies.
The first night there we did an evening tour of the Colloseum, which was really nice because we got to explore each area with a group of less than 25 people. Our tour guide admitted that it was her 3rd tour of the day, she was tired and she was super dull. We kind of started to ignore her and just take in the grandiosity and history behind what we were walking around in crowd free. It was really neat to be there with such a small group and really get to see the Colosseum – which was my major want to do item in Italy.
The second day we did a lot of walking to go get a city pass so we could get into multiple museums and sites. Apple maps seemed to like to get us walking in circles, so we put in major mileage that day (also earning a few blisters). We toured churches, went by the Colosseum during the daytime and eventually made it to the Spanish Steps and had dinner in a lovely little restaurant. The pass place reserved our time for the visit to the Vatican museum (which has crazy long lines, let me tell you!!! Having a reserved time saved our butts). Wednesday is the day the Pope is out speaking (so it was suggested to us to go on Wednesday). I guess we caught him right before his big tour he is on right now.
Rome was amazing. There were little bits of history wherever you walked.
We reserved a towncar to go to the port (it is an hour from downtown Rome where we were staying). I was too nervous about cabs and train stations after the adventure in Florence, so it was a stress free morning. When we got to the cruise ship we were escorted off to a private super special lounge to hang out in while we waited for our room to get ready. One of the big perks that came with our crazy nice room upgrade. When we got to our room my jaw just dropped, it was HUGE! We had a separate living area from the bedroom and a gigantic balcony. The perks that came with the upgrade (like free internet and better booze) paid off for themselves threefold.
When the ship set sail I realized one tiny issue. Zofran was not fixing my sea sick, and boy did I not feel good. The first two evenings were spent super ill, I am amazed at how much worse I felt from the ocean nausea wise vs. chemo. The second night the crew brought me other meds, wrist strap pressure point things and I ate green apples (which are somehow supposed to help?). I finally started to feel better.
The sick nights did not ruin the amazing days. Our first stop was in Naples where we had a tour that dropped us off in a lovely town called Toarmina. We hiked up to an ancient theater and took in the vistas. We also stopped and bought me an Italian purse. I had been eyeballing grass green purses all over Italy and bought a lovely one (not sure why grass green was the appealing color this go, but it works!). Mike got a couple of nicely made Italian shirts.
In Sicily we decided to skip the official tour and randomly rented a scooter. I finally learned I had to close my eyes when Mike did something freaky (like drive between two lanes of traffic). We had a destination in mind, but Apple Maps kept taking us in circles and couldn't recalculate the spaghetti roads, so we decided to just explore. The most we accomplished was stopping at a very local coffee shop. We did a little shopping after we turned back in the scooter.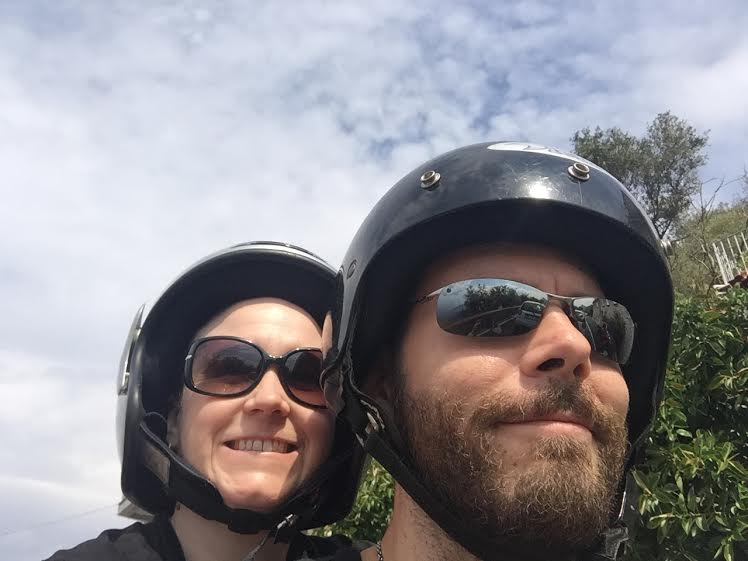 We had a formal night on the cruise and Mike forgot his formal clothes. It turned out that the ship had tuxes Mike could rent so they got him dressed up and ready for a late dinner. I won some money at craps and we had a nice couples massage the next day.
In Athens we had a tour that just dropped us off in the middle of Athens and left us to our own devices (my preferred way to tour). We climbed the Accropolis and navigated the crowds. We then explored the grounds around it, which we had practically to ourselves (I guess most people just go to the top). We had a huge delicious Greek feast and did some shopping.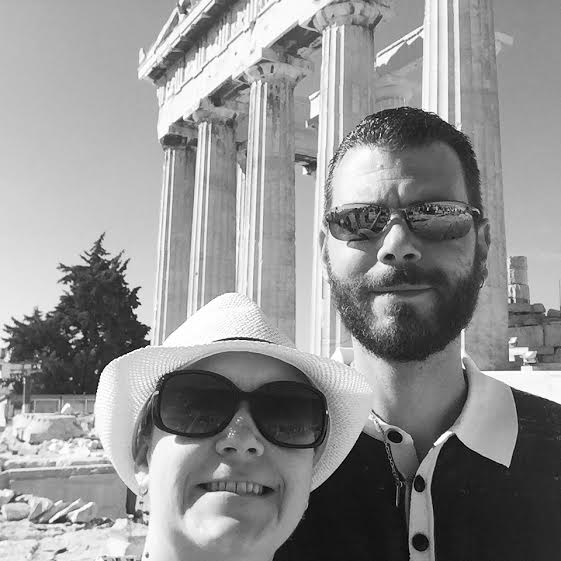 Our next stop in Greece was Santorini, which was beautiful. It was the first time we truly felt rushed on a tour. We were super exhausted from all of our galavanting and decided to just do an afternoon tour so we could sleep in a bit. It is one place I would love to go back to (or wish we had rented a scooter there too). We did a wine tasting and visited Oia, which is the town that all of the pictures from Santorini come from. It is a beautiful place and I would love to go back and just veg out for a few days by a pool.
Our final Greek town was Rhodes. Here we ported right near old town. We explored a museum, visited where the statue of Colossus used to stand. We also had the most amazing Gyros at a Greek fast foot joint. Combos came with beer or a bottle of Coke. The town was very medieval in its look. It was very neat. The shopkeepers and restaurant people were very aggressive here compared to anywhere we had been. It was a good preparation for our visit to Istanbul.
Close to Istanbul I realized I had my days off and had booked us there a day early (somehow I forgot the visit to Rhodes). We rescheduled just fine and got settled into our lovely boutique hotel that had a balcony overlooking the Haga Sophia (we could also see the Blue Mosque). We discovered that the calls to prayer are blasted on loud speakers. The first time it happened we just about jumped out of our skin.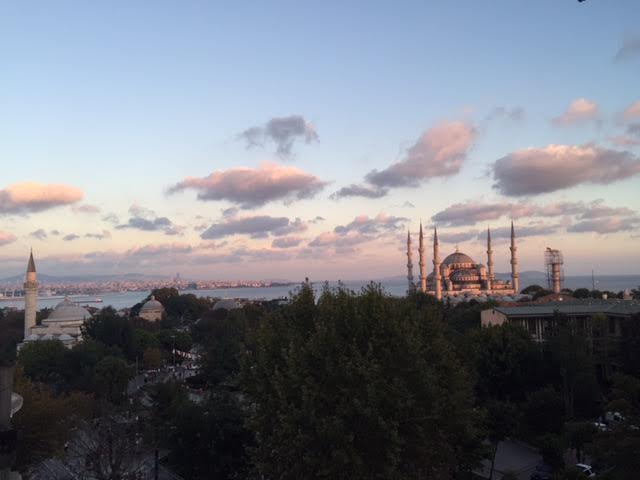 Turkey had some beautiful sites, but we had a harder time here. Women in burkas broke our hearts. It was really hot, and everywhere you walked you were in a wall of people. We went to the grand bazaar (where you could buy just about everything, including a Louis Vuitton style purse with a Michael Kors logo – I should have gotten a photo). Each restaurant had a person that stood outside and tried to aggressively talk you into eating at their restaurant. They didn't like being told "no." A lot of shopkeepers stand outside and do the same. Everyone is sell sell sell!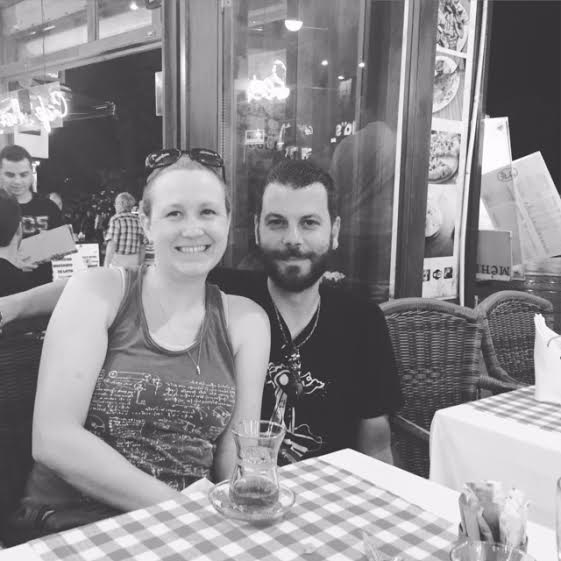 Our hotel somehow didn't book our return car to the airport at 3:00 AM. We went to check out a little early and realized this was the issue. They called their car company (which I think is someone who works for the hotel). his being there in 15 minutes turned out to be 35 minutes, so he drove to the airport at 100+ MPH in the middle of Istanbul. We covered our eyes and rode the roller coaster. Luckily we are here to tell you about it! 😀
All in all, our favorite place was Rome, the most beautiful place was Santorini. We Had amazing bits and pieces of everywhere we visited and it was truly the vacation of a lifetime.
When I got home I jumped right back into the reality of cancer treatment. My tumor markers continue to rise. My oncologist ordered my next PET-CT scan and a brain MRI. In the middle of my treatment day I had been asked to pretty please attend the Women Tech Awards and this was why: