After KSL did the news story about Mike and I and Fifi the RV of awesomeness, I was contacted through a friend via the friend of a friend by a nice gentleman who worked at Western River Expeditions, he saw that I had rafting on The Mandi List and wanted to give Mike and I a free rafting trip! They offered us an overnight adventure or a full day on the Colorado River in Moab, Utah. I was in tears when he offered, so amazingly sweet.
I considered the overnight trip, but was not sure my body was up for it, so the day trip seemed the safest bet. Since we were going to Moab and my dad works in Moab I suggested (more like I kind of told him) he was going to come along. It also turned out the weekend we decided on was Father's Day weekend! So we got to drag my father down a river (he says he can't swim, but we had a boat when I was a kid…. hrmm dad. hrmmm?) for a fun adventure for Father's Day weekend.
We were trying to head out Friday after Mike got off work. He had dropped his car off at the shop to get new brakes before we left, new brakes ended up being new rotors and then right as we were leaving town error lights started flashing like crazy and fluid overflowed everywhere. We pulled over on the side of the freeway and Mike called the shop. He managed to catch someone still there, this shop REALLY cares about their customer service and actually sent a mechanic to us in Friday night traffic. It took them an hour to get to us, they looked at it and decided it had to go back to the shop. We spent a few hours and they could not find the source of the problem to fix that they were comfortable with enough to send us back on the road.
I had forgotten to register the truck and it was too late to take it in to get that done. My car needs to go in the shop for a vacuum leak and Mike was sure it would breakdown on the way so we called on MOMMY! My poor mom has been stuck home with a broken foot 🙁 – so we stole her car like thieves in the night (thieves with permission to take the car, and the key). We loaded the dogs, our stuff and headed to Moab. We got there at 1:00 AM and had to be at Moab Adventure Center at 8:00 AM. We were tired when we got up, but I was EXCITED tired!
We got on the bus and headed up the scenic route to where we would launch the rafts. One thing I didn't realize is that we would have to row. Haha, somehow I thought we were in for a cushy cushy experience (we saw some on the river, the ones where the guides did alllll of the work). I tried to row the first half of the river, but my back was pretty not ok with it, so later I sat and took pictures and Mike got stuck doing the hard work (I kept wacking my oar into his anyway because he has a big loooooonngg row, mine were teensy. Teensy rows).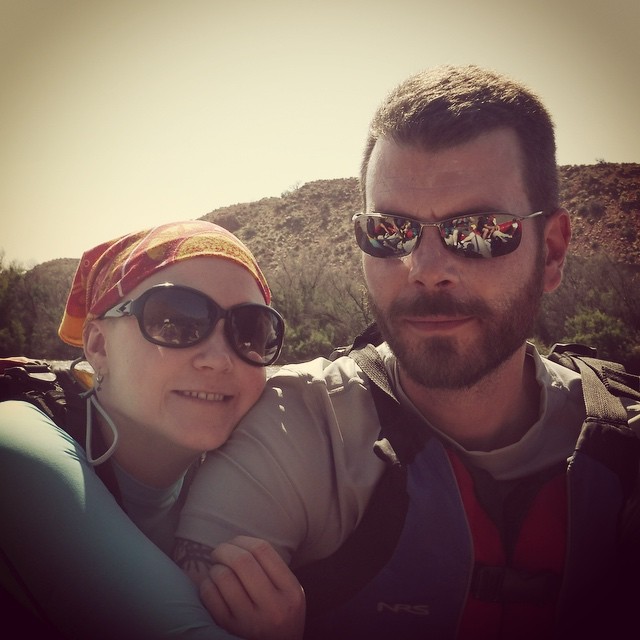 After our first area of white water my dad relaxed a little. Just a little. We stopped and had a BBQ lunch halfway. I was starving and my burger tasted extra delicious from all of that teensy oar work.
All in all it was a super lovely day drifting down the river making new friends.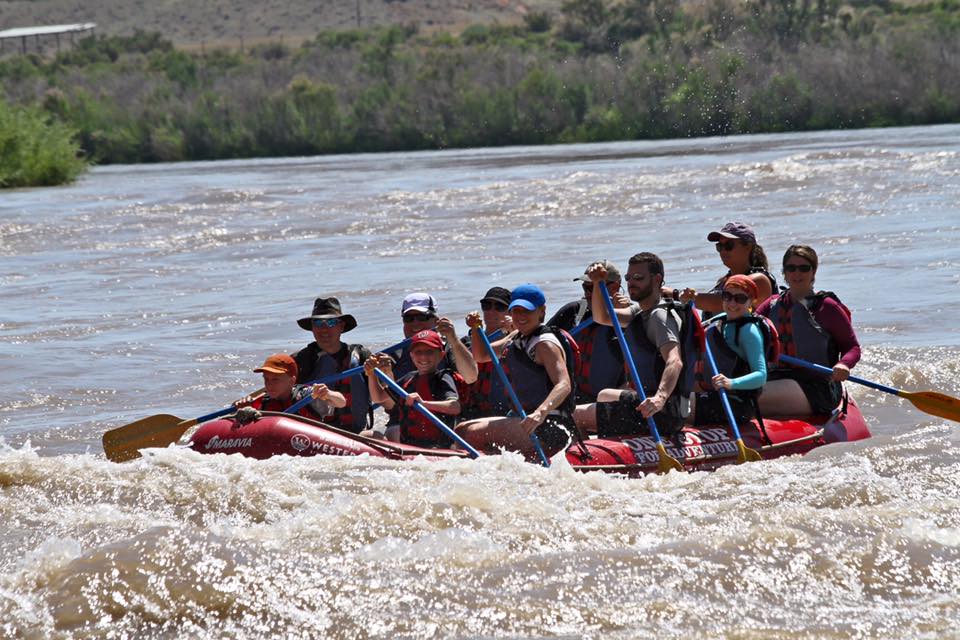 My dad then took us to a dinner at Sunset Grill overlooking the town of Moab. He ordered the special that they had (a buffalo steak?) it was 5 pounds I swear. We explored a rock shop that had some amazing rocks. I wanted to buy the whole store, I had no idea I was so passionate about rocks! Mike got a really nice trilobite fossil. I got a neat piece of petrified wood and a funky rock with a bright blue spot (now I can't remember the name of the blue stone).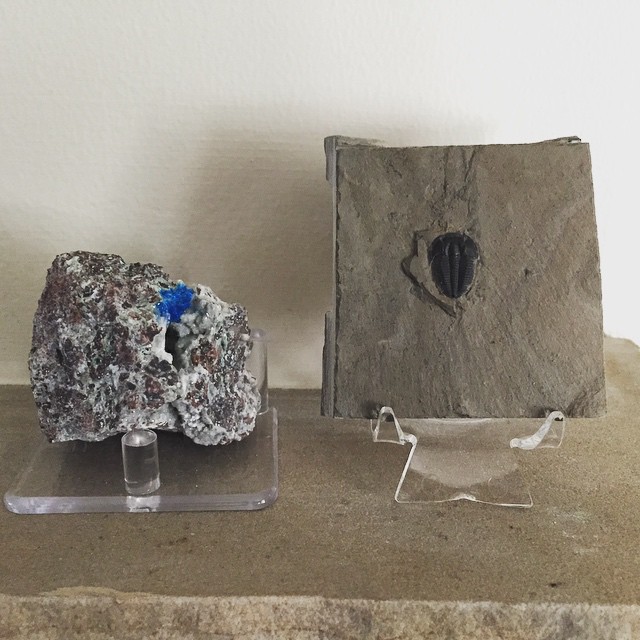 We did some additional exploring so Mike could get footage on his helicopter. He has special permission to fly it cool places. He threw together some of the footage last night:
I finally booked our trip to Europe! Woohoo! We have been saving money from every paycheck, I had money from the awesome contest I won from Downeast saved up. Some kind folks have sent money via the Paypal link that is on the right hand side of the blog that has been all stewing in a savings account. I broke the bank by deciding to go on a cruise though, yeesh, those are spendy, but it has been my dream to go to Greece too – sooo once in a lifetime… I booked the "suite guarantee" so we get a suite at the cheaper rate, just don't know which one! Lol. We are going to land in Florence, spend a few days there and take a train to Rome. After we explore Rome we are hopping on a cruise ship and visit Sorrento and Messina in Italy, Athens and Santorini in Greece and we will land in Istanbul, Turkey. We are going to spend a few days in Turkey and fly home!
I had my PT appointment when I got home today, they were trying to do shots for the first time in the back called trigger point release. This is supposed to speed up the physical therapy and help my back. Well… a fun weekend in Moab sort of made my back a screwy mess and the shots involved me giggling at first, a couple of loud whelps and then tears. I am home icing my back now. Apparently the shots also trigger the back pain that the spots cause when they stick a needle in it. Oh boy!
I am working with my physical therapist to try to get me in shape to go and walk around. I am starting a fitness program at the end of July too. So I am really hoping I don't regret booking an AirBNB room up 5 flights of stairs in Florence (it has a balcony with a lovely view for only $100 a night :D).
If you are interested in our vacation registry the link is here: http://www.travelersjoy.com/darngoodlemonade
No pressure, if anything, go giggle at what I wrote and throw some suggestions on what else we need to add to do on our vacation this fall! <3