A coast to coast trip related to cancer during the worst part of chemo never seems to be a good idea, especially right after you got on disability from work.
Some I can talk about, openly, some I will explain later, but what it came down to was OMG it was a hard week. Not just physically, but emotionally. Living in cancerland, talking about cancer and discussing your harsh realities 24/7 is an emotional suck. Until you learn to shut up and listen…
There are the many good stories in cancer. People who survive and go on to live great lives. People who help other people and the joy they bring. Stories of love. Stories of hope.
When I was invited to join the Keys of Hope celebration in New York City I was not sure quite what I was in for, until I saw the agenda, then I realized we were really in for a celebration!
We stayed at the Extended Stay in Secaucus, NJ. This was my first time staying at an Extended Stay, my room was quite comfy and I felt like I had a suite with a kitchen, living room and bedroom all to myself – although I mostly set up shop in the bedroom. When I wasn't out celebrating I was sleeping since chemo recovery means a lot of sleep for me right now.
We started out with a BBQ dinner and off to see Jurassic World at a movie theater that had seats that were individual recliners. I have never enjoyed such luxuries and will be tracking down my own recliner to watch movies here in Salt Lake City, because that was mighty comfy. The movie was good, but I had heard everyone say it was extremely amazing so I think I had huge expectations going in… so I was a little less excited about the movie coming out. A couple of survivors and I sat on the lovely patio at the hotel and had a glass of wine and chatted about our experiences. It was a lovely night.
I learned about how the partnership made it possible for Peter to get proton therapy in San Diego for his prostate cancer and a fraction of the cost he had initially planned for.
The next morning we were off to brunch at the Hope Lodge Jerome L. Greene in New York City. Here we met the CMO of Extended Stay America, and Kristen Solt Managing Director of Hope Lodge Network and Amy Robach. Amy talked about her breast cancer story and we all took photos together. Amy's story was very emotional and it was great to meet her, I also got to chat with her about the recent story with Holley who did a video about metastatic breast cancer that went viral.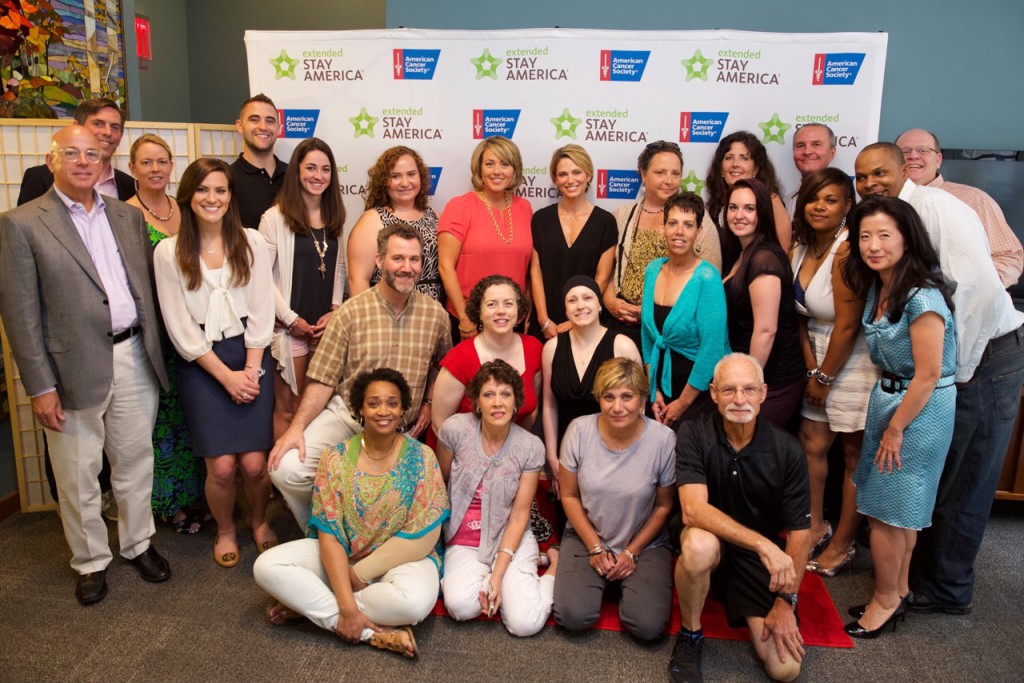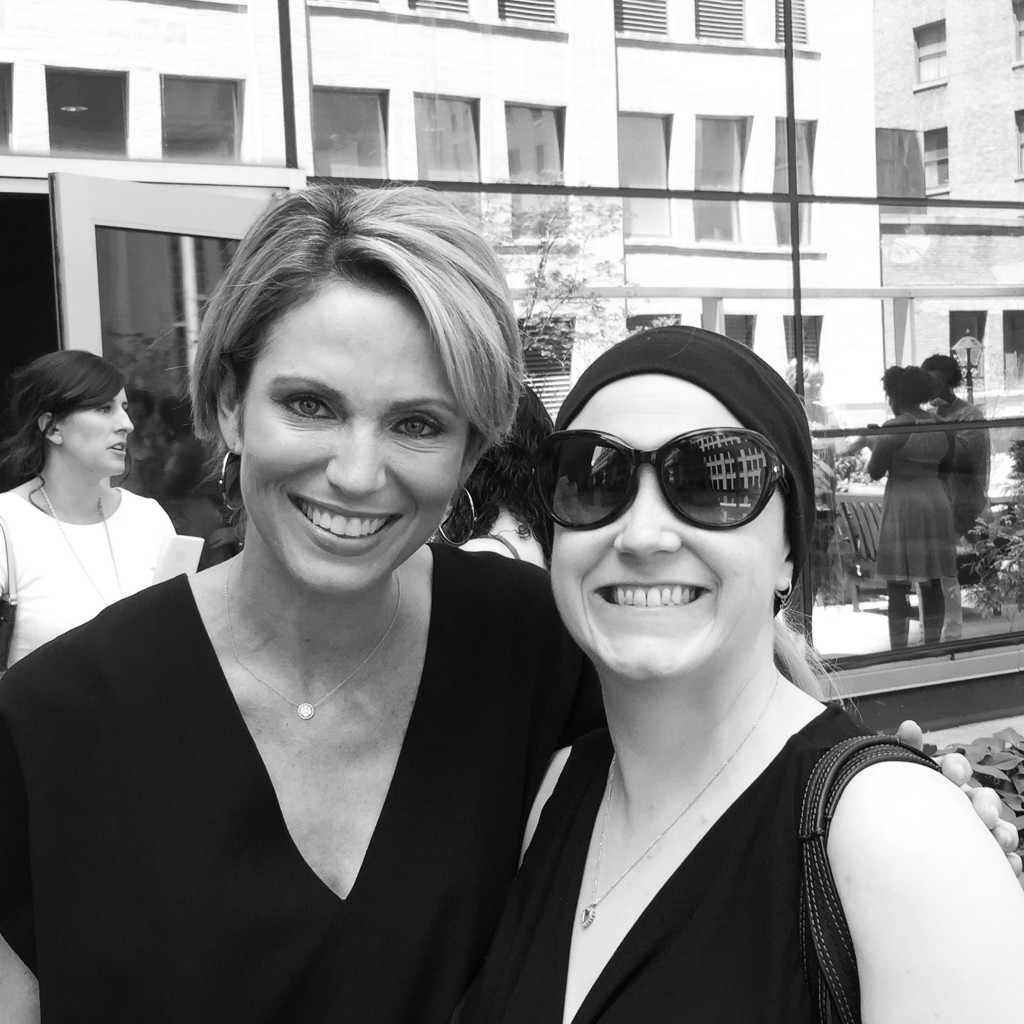 I met Elizabeth and her fiance Keith and learned about how Keys of Hope gave her a place to stay during her treatment for Leukemia and what her treatment was like (she also woke up early the next morning with a special sign for the Today show, because she was celebrating one year since her diagnosis).
After brunch we headed out to Times Square and took a photo. We then headed to the theatre to watch Chicago on Broadway with Brandy starring as Roxie Hart. This was my second Broadway show. I was super excited. We had a marvelous time watching the show. After the show we had a lovely Italian dinner in Chelsea where we celebrated hope. I learned more stories and got to know all of the amazing people that the program had helped (and surprised, with the celebratory weekend).
We then danced to our hearts content on the party bus back to the hotel (I may have started to take over as DJ on the sound system, but had some help on song choices on the way back). I couldn't not help but get music going when our vehicle that drove us around was a legitimate party bus with laser lights and the whole set up.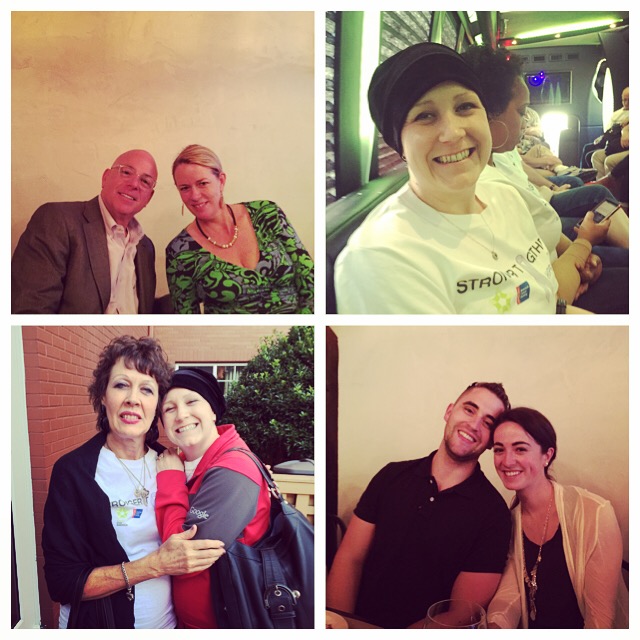 What I learned most importantly from the weekend that I didn't know was this:
There is no specific criteria to take advantage of the Keys of Hope program. Anyone who is battling cancer and needs to travel, can call the American Cancer Society booking hotline and they can ask about the Extended Stay America rooms, you can get free or deeply discounted rooms. That's the beauty of the program, it is a donation of currently 47,000 room nights and counting that are open to anyone who needs them. With 680+ Extended Stay America Hotels across the country, they usually have a property near every cancer center in the U.S. you can call American Cancer Society about this at 1-800-227-2345.
I had no idea about this program and have fretted about the cost of some of the trials I have been really interested in because of the travel that it would require. Now I know there is a chance that I could go live at an Extended Stay Hotel or Hope Lodge, inexpensively and get the treatment I need. This means so much to me, and hopefully helps someone else that reads this.