I must be slightly crazy, but I still packed my bags to head to Philadelphia. Chemo Friday, flying the Thursday after. Not that that sounds like much on top of camping, but with camping Mike did most of the work and my chemo side effects really start to kick in late Sunday and are at their finest the Monday and Tuesday after my infusion. Mondays I typically stay home and head in to the office on Tuesday. Tuesday I was sick. The chemo side effects are gradually getting worse with each infusion and changing my antibiotics around caused my jaw to flair up. Bone pain in your face is not a pleasant experience. I was also freaked out about my infections getting worse while I was traveling. I got myself put together enough to run up to the hospital to verify my infections weren't systemic and up the level of antibiotics I was on. Who needs bacteria in their digestive system anyway (I kid).
I was disheartened to feel like total crud after great news, but this is the way the cookie crumbles.
Thursday I hopped on a plane with my mother. When we got to the airport we found out that the seat I had been assigned to was broken, so they tried to seat us in middle seats randomly around the plane. Oh boy. Great way to start the day! Luckily after they upgraded people they gave my mom and I a seat together, but next to a very very heavy man. My mom took the middle seat, she was worried my back couldn't handle the ride turned funny with someone in half the seat. The gentleman was very nice, but I am glad my mom took the middle seat (maybe, she also spilled my drink in my lap, so I flew the whole time with a wet behind, good thing I love her 😉 ).
We landed at the hotel and discovered we were super duper tired. We got pretty enough to find a hole in the wall dim sum restaurant that was AMAZING and had a cocktail in the bar, after that it was bedtime.
Friday I did the Hear My Voice training with the Living Beyond Breast Cancer group. This is focused on helping us become advocates for metastatic breast cancer. Something I am trying to do already, but am happy to learn what I am missing and connecting with other women who are also passionate about being vocal and helping change the outcome for stage IV breast cancer.
A few of us met together and Beth Caldwell came up with the idea to stage a die-in. We had heard the statistic of 108 women dying every day and she wanted to do something about it NOW! Beth covers the event well in her post on her blog A Eulogy for the 108. It was very very emotional. Several of the 108 each day over the past few days have been women in my young metastatic group. There has also been a series of bad news and progressions since we all got home and it is all heartbreaking. Many women are living for an extended period, but many many women are dying. That is our reality. Jenny Grimes also helped organize and write about the event and wrote about it on her breast cancer blog.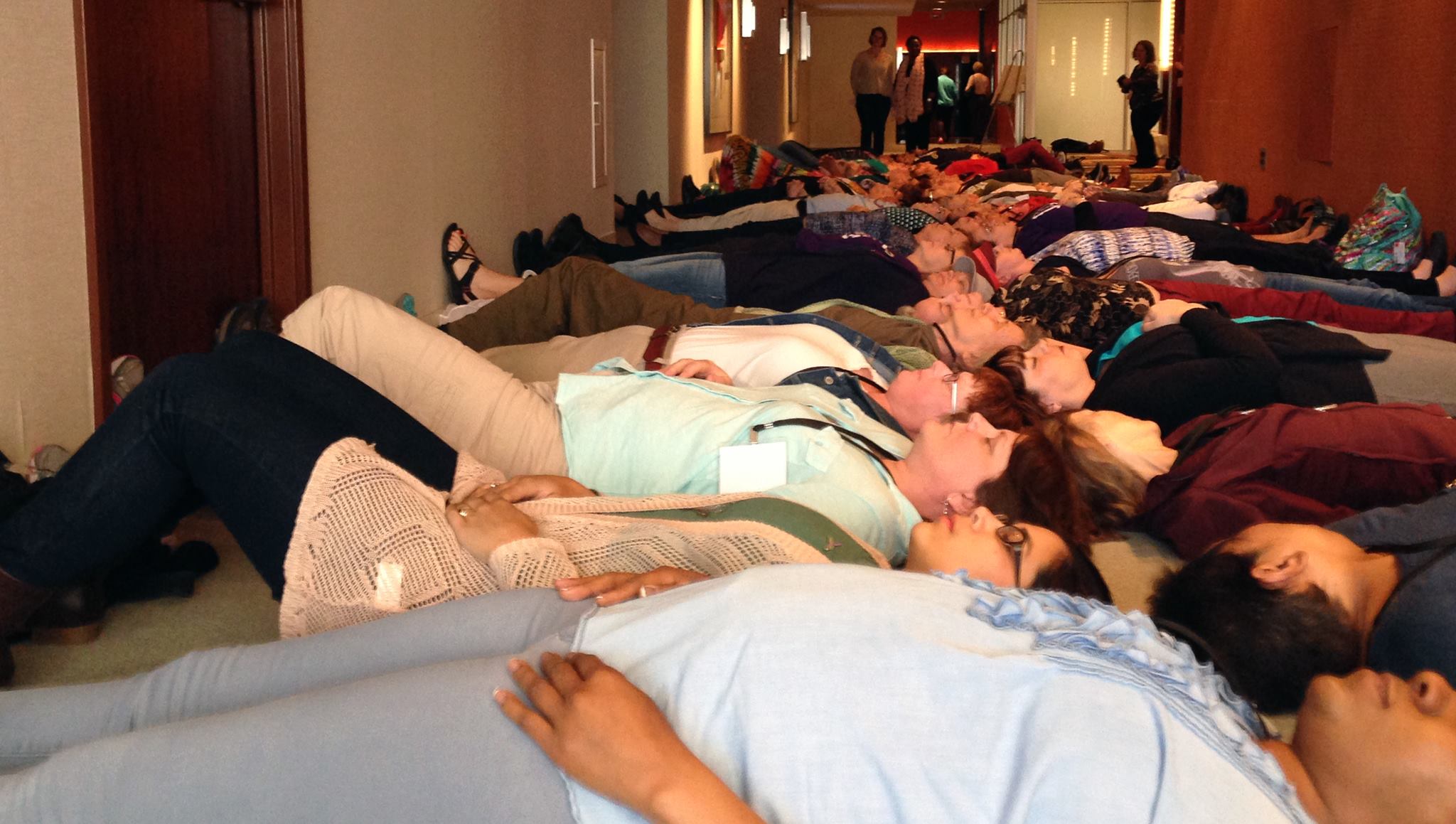 I met a lot of wonderful women. Many I have connected with on Facebook and Twitter, and many new faces. It was refreshing to meet so many amazing women who are just like me. There are too many to list, but they were all awesome.
I also learned I don't have a lot of energy. Mom and I exploring, the conference, work – everything wears me out lately. I frequently take a nap in the evening, but if I don't, I can get cranky. I flew in late Tuesday and went straight to work on Wednesday and was worn out. Hmm, maybe I can't quite do everything I used to do, but I will probably keep trying.
My mom and I ran around town over the added on days and explored the Philadelphia Museum on Art, Reading Terminal, and the Liberty Bell.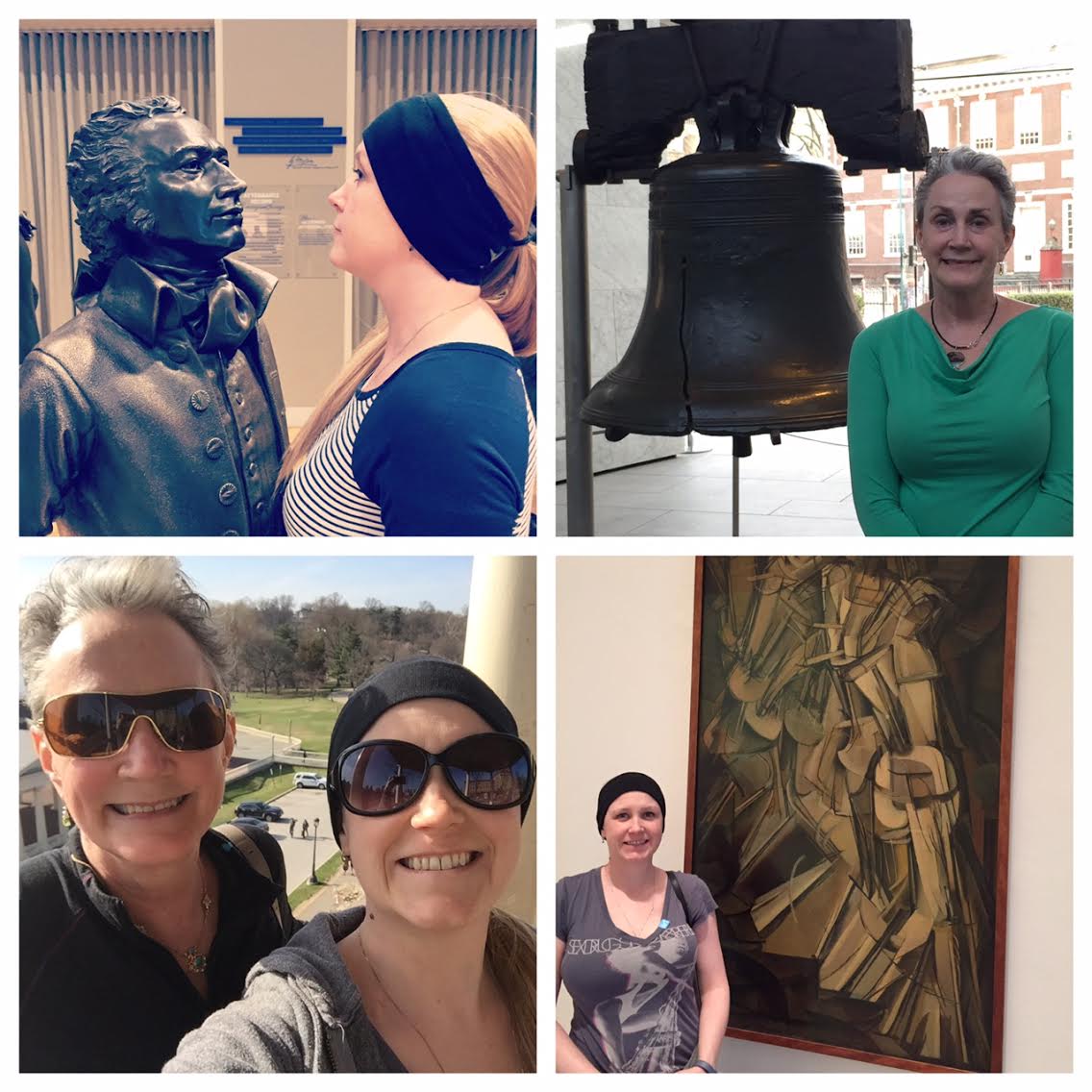 After a day of adventure we came across a palmist (a Life List item) and we decided to give it a shot. I probably won't do one of these again – it was exhausting. According to the palmist I am going to have 3 kids (even though I don't have ovaries, we chatted about that, dogs don't seem to count) and I will live a very long time (even though I have a terminal disease). Ok… Sure. I am also apparently an important person in something and will be well known (watch out people, I do have an agenda!).
No. I won't do that again. It messed with my head in a not good way. Lesson learned, don't mess with my fate, just try to make it from what I have control over.