I had called to check on the status of my biopsy Thursday and my oncology nurse checked high and low for info and couldn't find anything. She explained that pathology had been a bit behind and that two days was probably not enough time, but that she would call me either way Friday afternoon and let me know the status.
She called me Friday and left a message saying she hadn't seen anything, but that the nurse that would be there Monday was going to be watching closely for the results and would be in touch.
Thursday we got Fifi the RV ready for our trip to San Rafael Swell with friends and discovered that the tail lights for the ATV trailer weren't working properly and that we probably shouldn't leave at night… I am not an electrical engineer, or a trailer mechanic… so… yeah, we went to bed super sad that evening, planning on getting up as early as there was enough sunlight to go. Now if you know Mike and I… getting up SUPER early on a day we aren't working is practically a miracle. No… it IS a miracle.
We got up before the sun was up and waited for it to rise. We then took off for a lovely weekend of red rocks, friends, campfires, Fifi, puppy kisses… I forgot to bring a rock home for my collection though. So bummed. 🙁 On the way home we had a trailer tire literally explode. Luckily we had a spare, but no jack. After waving down all of the people driving down the canyon (no cell phone service at that point) we found a couple of vans full of college kids willing to save the day! Those poor kids… the bolts were rusted on the old tire. We finally got it changed and made it home right before the sun set. Whew.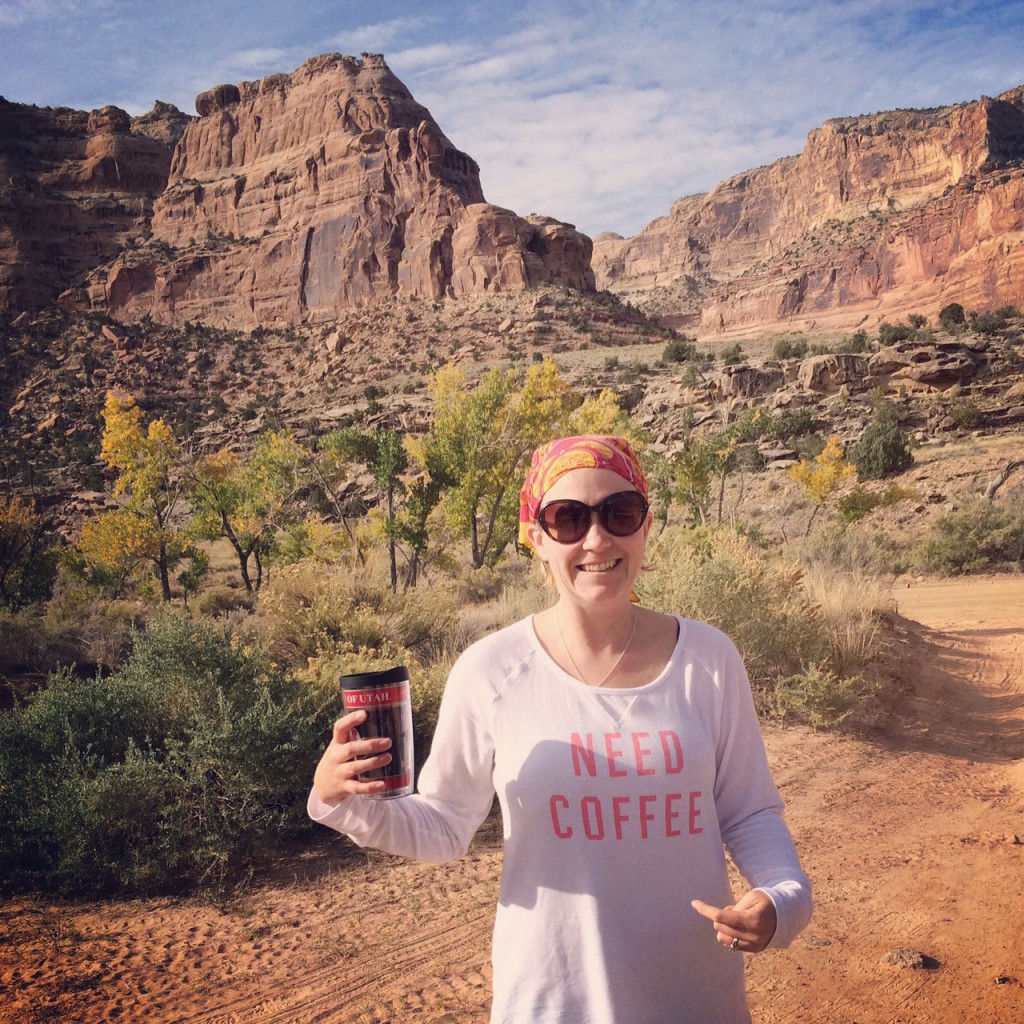 Monday morning I got a call from the other oncology nurse telling me she was watching for my results – like a hawk – and would be in touch. When the end of the day rolled around I was sick with worry. I was supposed to get mapped for radiation and we didn't have the official "word." She called me at the end of the day. I could tell in her voice she was less than happy to tell me the news… My samples hadn't made it to the pathologist until Monday.
They told me to still plan on coming in for my appointments. They had called in and made a special request to get them reviewed based on the circumstances.
I was anxious all morning Tuesday. Do I get my tattoos, do I not get my tattoos..? My oncology NP called me while I was having lunch with my mom and dad. She let me know that they did get enough information out of the sample to say yes, there were metastatic cancer cells in there (surprise! When you see my PET/CT below you will see why it wasn't a huge surprise…). The big BUUUTT was that they don't know if the sample was big enough to identify the additional characteristics of the tumor cells that they had hoped for. Those can take a few days, so the jury is out.
I went in and got my tattoos. I asked for a unicorn tattoo. Huntsman does not provide that service (sadly). So I got 6 new dots. Dots are classy… they are going to be the "new thing" folks… You just don't know it yet. I have 11 now I think?
During my oncology appointment we discussed that we come at me two ways. Bones and then everywhere else. With the understanding that the goal isn't to sucker punch the cancer like my first treatment, when breast cancer becomes metastatic, it is much more difficult (meaning super rare) to cure. The aim is to keep it at bay as long as possible and keep me as comfortable as possible in the meantime. My oncologist opted to treat my tumors like they have the same characteristics as my initial tumors unless we find out information that suggests otherwise.
Bone: Radiation & Zometa
Everything else: Attack number one means no more estrogen. More options in this route require me to be in menopause. So we have to force me into menopause, which means my ovaries need to take a permanent hike. The list of what we will do is slightly up in the air based on whether or not I will get in a study related to using a drug called Letrazole and another drug that helps it be more effective. We are seeing if I will be able to get into this study and whether or not shutting down my ovaries on Friday with a Lupron injection will be an issue. Luckily I was able to get in to see an OBGYN at the Huntsman tomorrow to get the process of getting an ooporectomy or hysterectomy moving forward as soon as I am done with radiation.
So. The plan is:
Wednesday: OBGYN consultation about yanking out my lady parts (sorry, I don't feel like being a softy on this one)
Friday: Zometa infusion (that takes 2 hours), radiation dry run, and Lupron injection (hello menopause)
Here are images from my PET/CT. Bright yellow/orange = cancer. I included one that shows one of my lung nodules officially opting to show up big time on the "uptake" scale. The black and white one really shows the white spots in my spine and lung area, ignore my kidneys and what my mother says is my spleen. The black and white ones are actually more accurate, just less interesting.